SMAP's Takuya Kimura to Transition to Anime Voice Acting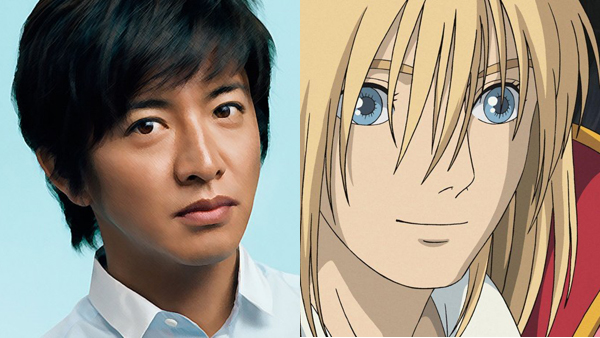 Kimura
played Howl in 2004's
Howl's Moving Castle
.
Come 2017, the members of Japanese boy band SMAP are going to find themselves with some spare time on their hands.
The group, which has been together for 25 years, is set to split up December 31, giving the five members more time to pursue their solo careers. Today we got a preview of what at least one member plans to focus on, and it's anime-related.
Takuya Kimura, probably the most recognizable member of the group outside Japan, is said to be working his way toward a steady career as an anime voice actor.
Kimura, commonly referred to by his nickname Kimtaku, is not exactly a stranger to anime: he appeared in Howl's Moving Castle as Howl in 2004 and in Redline as J.P. in 2009. But the entertainer now appears to be moving toward making voice acting a more regular part of his career.
The singer and actor has also appeared in several live-action anime and manga adaptations, including Space Battleship Yamato and the upcoming Blade of the Immortal, directed by Takeshi Miike.
Not everyone in Japan is a Kimtaku fan – the 2chan thread following the news is full of comments like "nah, that's okay dude, we're all good." But the addition of Kimura to the cast is a guaranteed ratings boost for any anime.
We'll just have to wait and see what anime Kimtaku shows up in next year.
Source: Yaraon