Oh, Suddenly Egyptian God Cast and Staff Return for Season 2
The Oh, Suddenly Egyptian God anime is based on the social media mascot characters created by yuka, and the adorable series is officially getting a second season. Good news for fans: The cast and staff from the first season are coming back for the second, including director Katsuya Kikuchi back at the helm for more.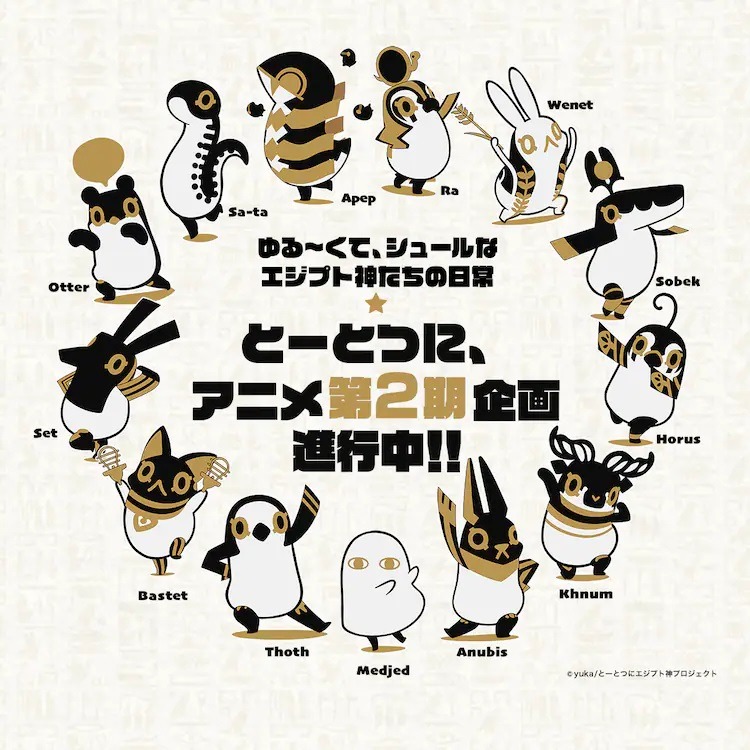 The cast of the series includes:
Hiro Shimono as Anubis
Yuki Kaji as Thoth
Hikaru Midorikawa as Medjed
Yū Kobayashi as Bastet
Hiroyuki Yoshino as Set
Nobunaga Shimazaki as Horus
Kenjiro Tsuda as Ra
Kōji Yusa as Apep
Daisuke Namikawa as Khnum
Yukari Tamura as Sa-ta
Shouta Aoi as Wenet
Tomoya Nakamura and as the Narrator
The staff:
Director: Katsuya Kikuchi
Series composition: Yūichirō Higashide
Screenplay: Yuniko Ayana
Character design: Rena Okuyama
Art director/ Art settings: Shinji Nagaoka
Color design: Aiko Matsuyama
Director of photography: Hideki Imaizumi
Editor: Ichiro Chaen
Music: Keiji Inai
Sound director: Chikako Yokota
Sound effects: Kaori Yamada
Music production: IMAGINE
Animation producer: Takashi Sakurai
Animation production: Typhoon Graphics
The first season of Oh, Suddenly Egyptian God is currently streaming on Crunchyroll.
Synopsis:
Welcome to the world of the Egyptian gods. This is where the famous gods of Ancient Egypt, from Anubis to Thoth, live their lives freely. How freely, you ask? Bastet appears out of nowhere, singing and dancing. Medjed is always stone-faced. Horus works a part-time job. Set is devoted to pulling pranks. Ra's off traveling and rarely comes home… All the Gods basically just do whatever they want!
Via Crunchyroll News