Next Highschool of the Dead Manga Chapter Goes Simultaneous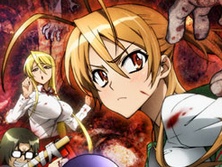 Publisher Yen Press has a treat in store for fans of Daisuke Satō and Shōji Satō's Highschool of the Dead manga. The highly anticipated next chapter of the series will debut digitally on the same day it arrives in Japan.
Yen Press hopped on their Twitter account today to make sure everyone saves the date:
"HIGHSCHOOL OF THE DEAD ACT. 30, available April 9th! Mark your calendar!"
The series has been on hiatus for about two years, so this announcement should elicit more than a few sighs of relief.