My Hero Academia x Hello Kitty & Friends Collection is Here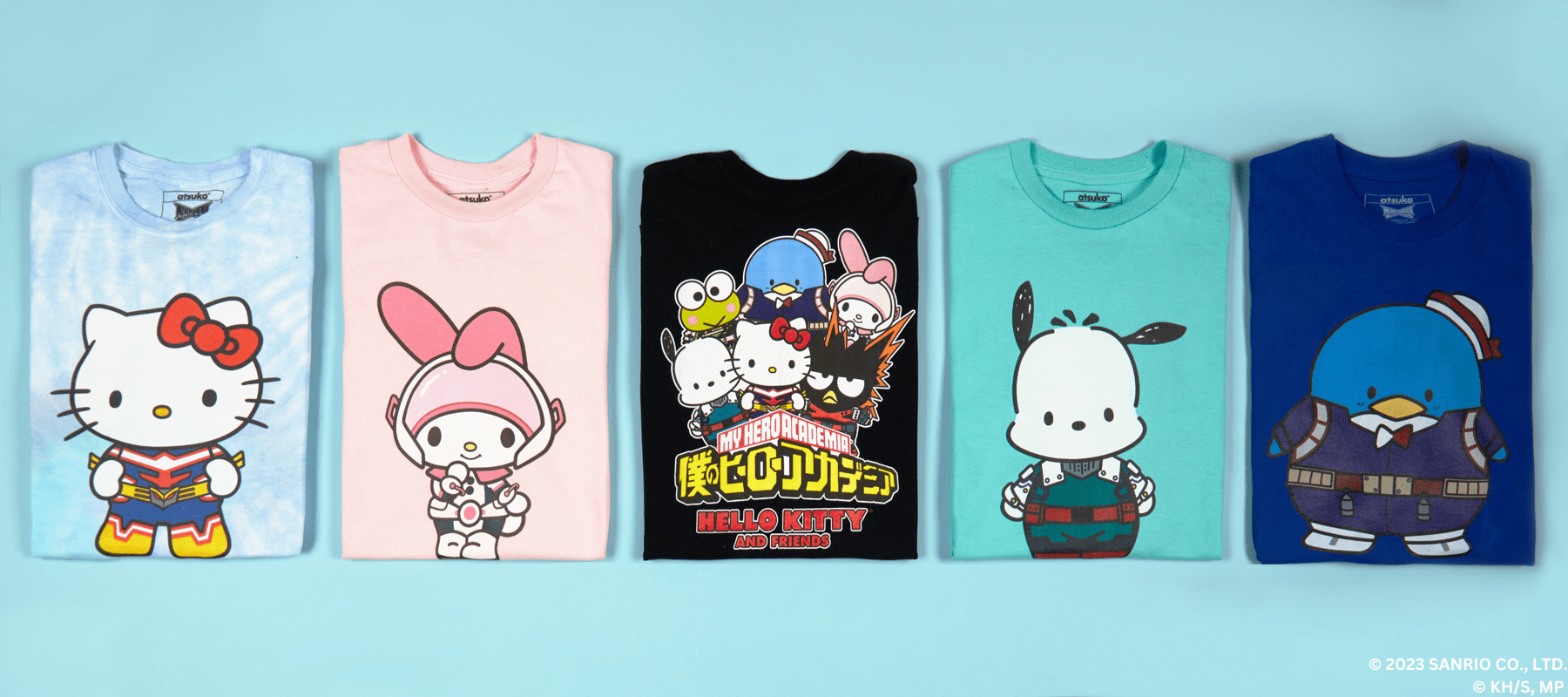 Hello Kitty and her friends at Sanrio have done plenty of collaborations over the years, and the latest is with fan favorite My Hero Academia! Atsuko, which specializes in official anime merchandise, has rolled out a collection of T-shirts (and one set of lounge wear) bringing the two franchises together at last.
The My Hero Academia x Hello Kitty & Friends line became available yesterday and can be purchased on the Atsuko website.
"Atsuko's My Hero Academia x Hello Kitty Collection brings together current and nostalgic brands, both with a theme that actions are meaningful, which really resonates with our Atsuko customers," said Stephanie Benjamin, Atsuko Senior Designer, in an exclusive quote to Otaku USA.
VIZ Media publishes the original My Hero Academia manga, and gave this description of it:
"Middle school student Izuku Midoriya wants to be a hero more than anything, but he hasn't got an ounce of power in him. With no chance of ever getting into the prestigious U.A. High School for budding heroes, his life is looking more and more like a dead end. Then an encounter with All Might, the greatest hero of them all, gives him a chance to change his destiny…"
Atsuko gave this description of itself:
"Atsuko is a retail experience created for fans of anime and anime culture. We carry 100% officially licensed EXCLUSIVE apparel, accessories, and more from the biggest names in anime like Dragon Ball Z, Cowboy Bebop, My Hero Academia, Crunchyroll, and many more.

We started Atsuko to create one spot for all anime fans to find cool anime goods — because there wasn't one. We're all about experience, lifestyle, and bringing anime into the bigger conversation.

Oh. And the store is run by our namesake herself, Atsuko, and her fuzzy little companion, Nuki. They're here to make sure you feel welcome and find everything you're looking for."
Source: Email Correspondence
____
Danica Davidson is the author of the bestselling Manga Art for Beginners with artist Melanie Westin, plus its sequel, Manga Art for Everyone, and the first-of-its-kind manga chalk book Chalk Art Manga, both illustrated by professional Japanese mangaka Rena Saiya. Check out her other comics and books at www.danicadavidson.com.