Mr. Osomatsu Anime Continues in January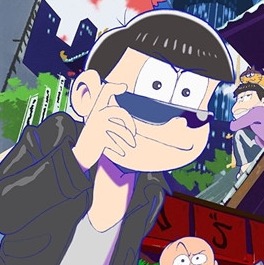 Fans of ridiculous comedy will be delighted to learn that Mr. Osomatsu (Osomatsu-san)—the anime celebrating the 80th anniversary of the birth of "Gag Manga King" Fujio Akatsuka, who passed in 2008—has been updated with plans for a second cour. 
Mr. Osomatsu is currently streaming on Crunchyroll, and the series will continue its broadcast on stations like TV Tokyo in January 2016.
If you haven't seen Mr. Osomatsu yet, be sure to check it out, especially the ridiculous first episode. The official website for the series recently announced that episode one in particular won't make it onto the first DVD/Blu-ray volume when it hits Japan on January 29. 2016. The production committee made the decision not to include the episode, which definitely skirts the line of Japan's tight copyright laws despite obviously being a parody. Newly-produced animation will be included as a replacement.  
TVアニメ「おそ松さん」の第2クール放送が決定致しました!2016年1月からも引き続き、テレビ東京ほかにて放送予定です。今後も「おそ松さん」の応援をよろしくお願い致します♪ #おそ松さん

— TVアニメ「おそ松さん」公式アカウント (@osomatsu_PR) November 9, 2015
Via Crunchyroll
© Fujio Akatsuka/Osomatsu-san Production Committee