Miyazaki Shares New Video of Him Making Sketches for His Café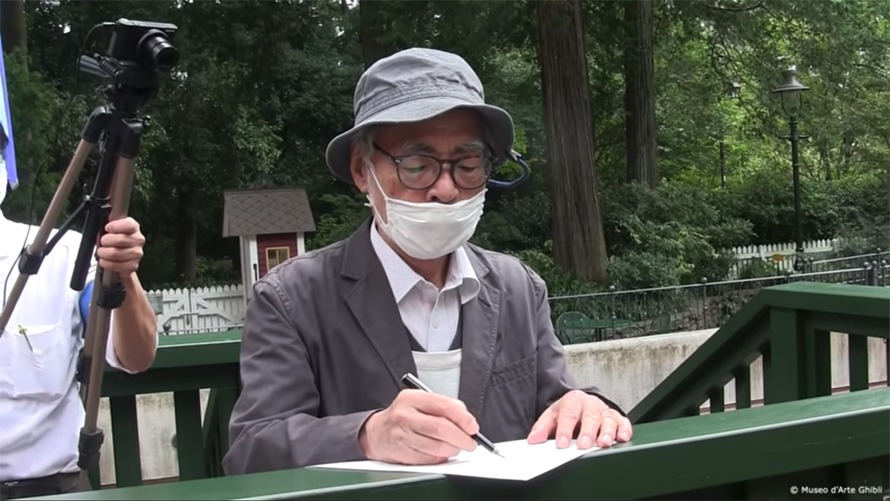 After sharing a video of himself, his son and his colleague Toshio Suzuki eating at the Studio Ghibli café like regular customers, Hayao Miyazaki is back with another filmed look into his life. The new video shows him drawing a potential sign to supplant the "Hot Dog & Ice Cream" at the Mugi Wara Boshi Café (translated as Straw Hat Café).
SoraNews24 explains that museum director Kazuki Anzai suggests to Miyazaki that a more dessert-sounding name would be preferable to Hot Dog & Ice Cream.
Miyazaki muses on names and is soon standing over a railing, using it as a makeshift table to sketch out his new thoughts. In his sketch, the name is now "Wara Wara & Ice Cream" ("Straw Straw & Ice Cream"). He includes some sweet, endearing imagery in his sketch — you can hear exclamations of "Kawaii! Kawaii!" ("Cute! Cute!") — as he draws, and he ends the video showing off embroidery on his clothes.
Source: SoraNews24
---
Danica Davidson is the author of the bestselling Manga Art for Beginners with artist Melanie Westin, and its sequel, Manga Art for Intermediates, with professional Japanese mangaka Rena Saiya. Check out her other comics and books at www.danicadavidson.com.