Mister Donut in Japan Unveils Pokémon Donuts For the Season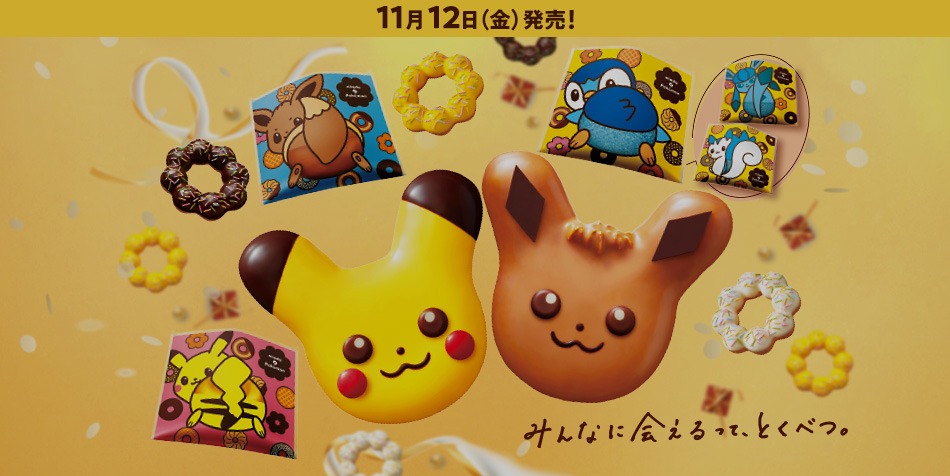 Over in Japan, the chain Mister Donut has made it a habit to release special Christmas Pokémon donuts at the end of each year. Their new 2021 donuts will be hitting stores on November 12, but in the meantime they're sharing pictures and descriptions to make our mouths water.
The two main donuts are of Pikachu and Eevee, with this being Eevee's debut in the donut world. Eevee has whipped cream in its center. Then the donut itself is covered with caramel flavored chocolate. Its ears are chocolate pieces, and the tufts of hair between the ears have more whipped cream underneath.
They're also offering something called "Furumuki Doughnuts." Furumuki means "looking back." These don't look like Pokémon, but they have Pokémon themes to their flavors and they come in packages where different Pokémon are posed looking back at you. So if you get the Eevee Furumuki donut, you get a circular donut that holds chocolate cream and whipped cream on the inside, and coconut and more caramel-flavored chocolate on the outside, and a package of Eevee looking adorably back at you.
Likewise, if you get the Pikachu Furumuki, you get a circular donut with custard cream and whipped cream inside, purin-flavored chocolate on the outside, and a package of Pikacu looking back at you.
There's a third donut like this called the Pokémons Furumuki, which also has whipped cream in the center, and white chocolate and cider-flavored sugar on the outside. There are three possible "looking back" Pokémon packages for this one: Pachirisu, Piplup, and Glaceon.
People buying these at Mister Donut in Japan will also have the ability to buy sets, which can allow them to get even more Pokémon merchandise, like a coffee cup, a plate and a blanket. All of these can only be gotten with buying the donuts.
Source: SoraNews24
____
Danica Davidson is the author of the bestselling Manga Art for Beginners with artist Melanie Westin, and its sequel, Manga Art for Intermediates, with professional Japanese mangaka Rena Saiya. Check out her other comics and books at www.danicadavidson.com.