Laid Back Camp [Review]
Having just moved to mountainous Yamanashi, plucky high-schooler Nadeshiko is eager to catch some classic views of Mt. Fuji. A late-night hiking encounter gets her interested in camping, so she joins her school's Outdoor Exploration Club, which has only two other members. (The mountaineering club seems to be more popular, but Nadeshiko doesn't feel up to it: "No way!! Like I could climb Mt. Fuji!!") The school has another avid camper, Rin, who refuses to join the club and prefers to bivouac solo. Soon, however, the experienced Rin and newbie Nadeshiko bond over their shared hobby and even start camping together.
Laid Back Camp combines two manga genres: edutainment manga where the story and characters are a vehicle for learning about an interesting subject (home cooking in Cooking Papa, haute cuisine in Oishinbo, wine tasting in Drops of God… okay, a lot of manga in this category are about food), and scenic manga that follow the characters about their daily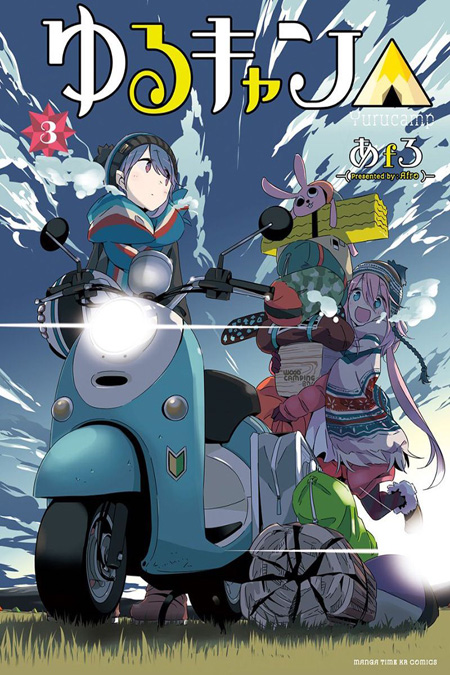 lives in an immersive, invitingly drawn setting the reader can visit vicariously (Aria, The Walking Man, Saturn Apartments). Nadeshiko learns the ins and outs of camping, from outdoor cooking to pitching a tent to shopping for sleeping bags. Volume 1 takes place in winter, and the manga offers plenty of tips on keeping warm in the mountains. Though the characters enjoy age-old outdoor activities like gathering firewood, they also spend a lot of time snapping pictures on their phones and texting each other about their adventures whenever they can get reception.
The outdoor vistas are drawn appealingly but without much detail; more visual attention is lavished on campsites, equipment, food, and the characters' comfy mix-and-match camping outfits (so many chunky knits!). The art manages to make freezing your extremities off in the dead of winter look like a treat. And that's the goal: to settle the reader into an idealized camping experience and make even the most sedentary otaku feel like they could hike in the shadow of Mt. Fuji and cook up some curry over a fire. It's not the most exciting manga, but it's a cozy pocket-size vacation.
publisher: Yen Press
story and art: Afro
rating: T
This story appears in the August 2018 issue of Otaku USA Magazine. Click here to get a print copy.