Kill la Kill is Brill la Brill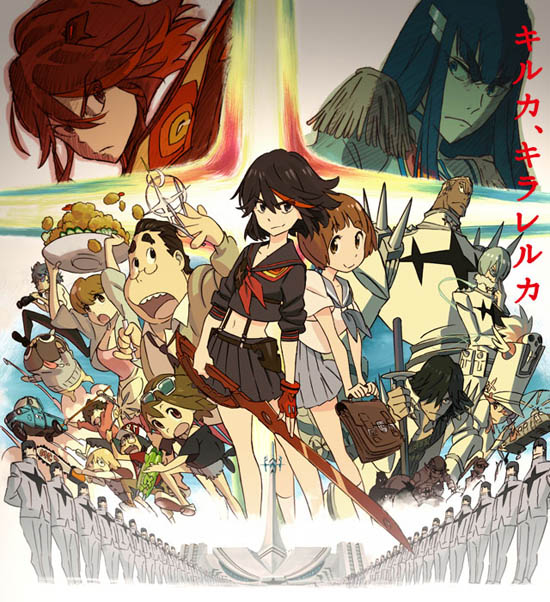 Kill la Kill, the whizz-bang action series from Gainax alums Studio Trigger, premiered October 3rd. In the run-up to the show, tension was high, with fans of director Hiroyuki Imaishi wondering if he could pull off the same high-velocity, non-stop action as his previous works like Gurren Lagann.
The answer, according to critics across the tubes, seems to be "hai."
First, to our own Joseph Luster, the most important and also most handsome critic on this list. "[F]rom the very first scene you can tell the show's staff is just straight up having fun," says Joseph. "The characters are as over-the-top as expected, the voice actors are all in on the insanity, the action is absolutely explosive, and it's just a purely fun and rewatchable 22-minutes of animation."
You can, of course, read his full impressions right here.
On the Japanese side of things, Yuichiro Oguro, editor in chief of web magazine Anime Style, weighed in with his thoughts on the first episode. "Just as I expected, Kill la Kill is a powerful, reckless, refreshing and fun show," writes Oguro-san, "what's more, the tempo is better than I thought it would be. No, rather than 'tempo,' it might be better to say 'feeling.'"
He goes on praise the distinctive flavor of the combination of director Imaishi and writer Kazuki Nakashima, who also worked on Gurren Lagann, and says he can confidently look forward to future episodes.
As with any show, reaction hasn't been all positive. "Kill la Kill's not interesting" is a top hit when searching for the series on Twitter in Japanese (though, to be fair, half the tweets seem to be questioning why anyone would post such a thing in the first place).
But what do YOU think of the show? Let us know!