The Island of Giant Insects Manga Gets One-Off Anime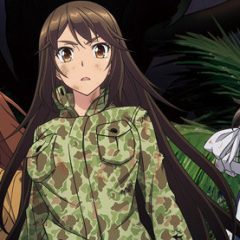 Manga Kyochuu Rettou, also known as The Island of Giant Insects, will be getting the anime treatment, it was announced today.
The manga, written by Yasutaka Fujimi and illustrated by REDICE, is about a group who get stranded on an island populated by—you guessed it—giant insects. Main character Oribe Mutsumi attempts to keep the group alive with her knowledge of wilderness survival, but still… giant insects, man!
The anime, a one-off (for now, at least) will be included in a special edition of the sixth collected volume of the manga, which will be released June 20, 2019.
The anime will be directed by Takeo Takahashi (Hinako Note, Citrus) with a script by Shigeru Morita (Atom the Beginning). It'll be animated at Passione.
It's also been announced that on the manga side, REDICE will be passing illustration duties onto Shu Hirose (Grisaia: Phantom Trigger).
Source: Comic Natalie