Emotional Anime Film I want to eat your pancreas Debuts in U.S. Theaters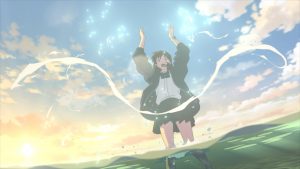 Featured Spotlight: Fathom Events
The deeply emotional story of the I want to eat your pancreas anime film—based on the award-winning novel by Yoru Sumino—is officially in select theaters across the United States. Now you can see what makes this coming-of-age tale so special for yourself, with English-subtitled showings scheduled for tonight, February 7, followed by dubbed showings on February 10.
She said, "I want to eat your pancreas," kicking off a powerful journey that connects two polar opposites and ultimately helps them discover the true meaning of compassion. One half of this story belongs to our protagonist, who discovers a diary in a hospital waiting room. Within it are the words "Living with Dying," which turn out to be handwritten by his popular and typically cheerful classmate Sakura Yamauchi.
As it turns out, Sakura is secretly suffering from a pancreatic illness, leaving her with limited time in this world. All she wants is to maintain a normal life as much as possible and live each remaining day to its fullest, and now she has one more person to share this secret with, as well as these tumultuous final days.
The unpredictable actions Sakura follows through with throw him for a loop, and the story unfolds with stunning animation from Studio VOLN (Ushio & Tora). You can be a part of the rollercoaster of emotions that is I want to eat your pancreas, so check for theaters near you and purchase tickets today!
** This article was sponsored by Fathom Events **