Go For It, Nakamura! [Review]
Sixteen-year-old Nakamura Okuto has just fallen in love for the first time. Not only is he head over heels in love with his classmate Hirose Aiki, but he's absolutely clueless on how to act on those feelings. As he observes his blissfully unaware classmate every day, he dreams up all kinds of ways to break the ice and let Hirose know how he really feels.
Go For It, Nakamura! observes an adorable, shy, occasionally klutzy teen dealing with his feelings for the guy of his dreams in some of the most awkward ways possible. Nakamura could be any one of us in high school, crushing on a classmate and unsure of what to do. Nakamura comes up with endless schemes to break the ice and let Hirose know how he feels, but just when he thinks he's figured it out he ends up bungling his plans. And while he's totally in tune with his sexuality, he's not sure how being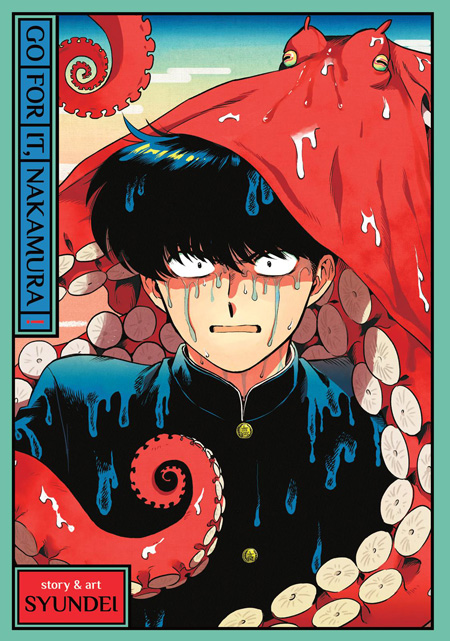 a gay man in the real world works. Coupled with the fact that he's an octopus-loving introvert with a tumultuous school life, he's got some hilarious obstacles in the way to figuring out how to (a) actually speak to Hirose and (b) profess his love. No pressure, right?
The manga runs through all the fun clichés of the romantic comedies, though it's a breath of fresh air to see this type of story unfold between a budding gay couple, and Nakamura is especially charming. It's easy to see how he could fall in love with Hirose, who is equally adorable. From the two guys hanging out together in cooking classes to Nakamura enlisting the help of a BL manga to make his move, this touching, funny story about potential lovers is one of the most pure-hearted of recent manga.
Syundei's gentle artwork is evocative of 90s manga, with unique character designs and entertainingly drawn romcom situations. Young love can certainly be confusing, but Go For It, Nakamura! makes it fun, relatable, and endearing, a special treat for LGBT audiences eager for a sweet, retro-flavored romantic comedy. Recommended.
publisher: Seven Seas Entertainment
story and art: Syundei
rating: T
This story appears in the December 2018 issue of Otaku USA Magazine. Click here to get a print copy.