FUNimation Rolls Out The Devil is a Part-Timer! Dub Cast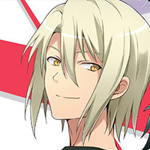 This week FUNimation started building up hype for its upcoming Blu-ray/DVD combo pack release of The Devil is a Part-Timer!, which hits home video on July 22. The English dub will premiere at next week's Anime Central convention, and so far five cast members have been announced.
Monday's cast announcement revealed Alex Moore as Suzuno Kamazuki, Aaron Dismuke as Hanzo Urushihara/Lucifer, and Anthony Bowling as Shiro Ashiya/Alciel. FUNimation followed that up earlier today with the female leads: Felecia Angelle as Emi Yusa/Emilia and Tia Ballard as Chiho Sasaki.
The accompanying images:

Synopsis:
When Satan is run out of his infernal kingdom, he finds himself virtually powerless in modern-day Tokyo. Stuck in a feeble mortal body and desperate for cash, there's only one way for the dark lord to survive: by getting a job manning the deep fryer at "MgRonald"!

As Satan flips burgers and tries to regain his evil magic, he's pestered by a righteous hero who tracked him to Earth, a video-game-loving fallen angel looking for a way back into heaven, and the most unholy of enemies: a rival fast food franchise. Will he figure out a way to reclaim his homeland and throne? And if not, will this demonic burger king at least sell enough featured menu items to be promoted to shift supervisor? The devil can't survive on minimum wage in the series Anime News Network calls "pure, unadulterated, gloriously fun entertainment."