Dragon Ball Super Reveals Dub Cast for Caulifla and Kale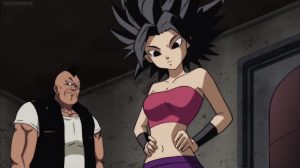 Christopher R. Sabat—who works as ADR director on the Dragon Ball Super anime—confirmed some new English dub cast information for the series. Thanks to the launch of the latest Dragon Ball Xenoverse 2 DLC, the cat's out of the bag as to who is voicing Caulifla and Kale.
The characters' respective English voices belong to Elizabeth Maxwell and Dawn M. Bennett, who also come together to voice the fusion of the two, Kefla.
The newest #Xenoverse2 DLC is out and so is the news about Kale and Caulifla.  So please give a powerful welcome to the voices of these badass lady Saiyans, @DawnMBennettVA and @AboutElizabethM @BandaiNamcoUS @FUNimation pic.twitter.com/tv0dgxdkPp

— Christopher Sabat (@VoiceOfVegeta) August 29, 2018