BLUE GIANT Anime Film Gets Jazzed with Teaser Trailer
Shinichi Ishizuka's jazz manga BLUE GIANT is coming to the big screen as an anime film, and a teaser trailer is here to give us a taste of the fresh tunes that are on the way. The film's music is being handled by Grammy Award-winning pianist Hiromi Uehara, and Tomoaki Baba performs saxophone for protagonist Dai Miyamoto. Shun Ishikawa is on drums for Dai's high school classmate Shunji Tamada, and you can check out a brief sample in the video below. 
Mob Psycho 100's Yuzuru Tachikawa is directing the film with NUT (DECA-DENCE) handling animation production. While the BLUE GIANT feature was originally scheduled for 2022, production was extended to provide the results necessary, and it's now set to premiere in Japan on February 17, 2023.
Manga author Shinichi Ishizuka shared the following message:
We are extremely fortunate to have Hiromi Uehara-san, one of the best pianists in the jazz world, as the film's music director. Together with Tomoaki Baba-san on saxophone and Shun Ishiwaka-san on drums, two sincere young players, they spun the sound of the film "BLUE GIANT" through a process of trial and error. It is very powerful music. There is much more I would like to say about the sound, but I will try to hold back and hope that everyone will enjoy the film. Thank you, Uehara-san, Baba-san, and Ishiwaka-san, for the super cool sound! Everyone, jazz is waiting for you at the theater! Please enjoy!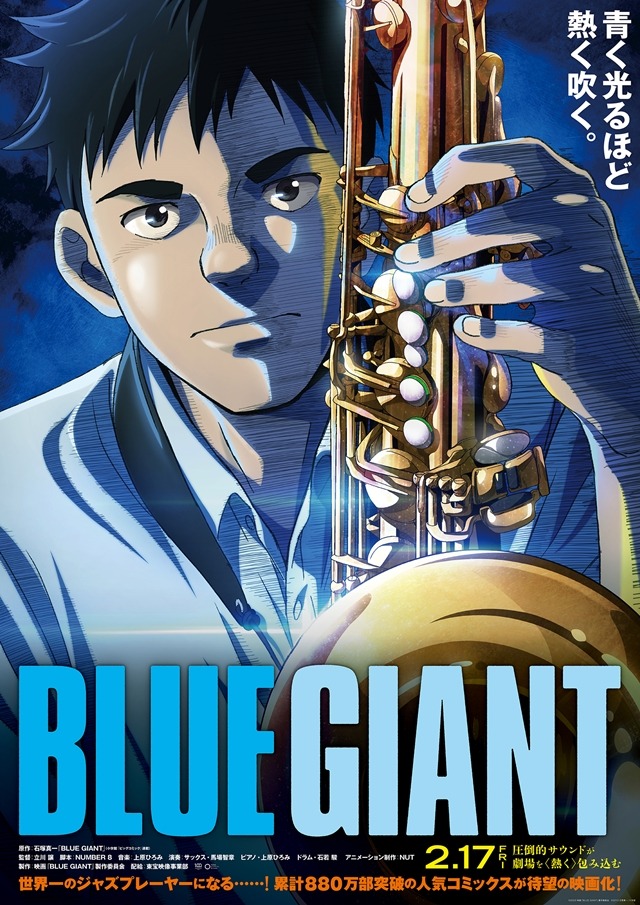 Seven Seas Entertainment publishes the manga in English and describes it:
Dai lived a normal high school life in Sendai: a city of hot summer days and rainy nights. Between basketball, part time jobs, and an uncertain future, something was missing. And that thing was music. With his days in senior year running out, Dai swears a heartfelt vow: "I'm gonna be the best jazz player in the world." But what do you need to be the best? Talent? Effort? A lucky break? Or maybe just a deep, pure love for music, and too much stubbornness to know when to quit.
Via Crunchyroll News