Authorities Cite Visual Novel as Possible Cause of UK Teen's Suicide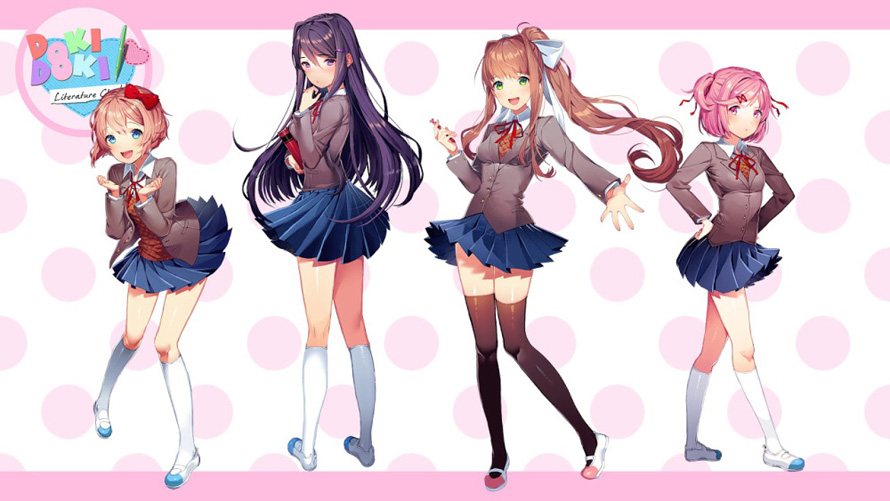 Doki Doki Literature Club is a visual novel released on Steam last year by American developer Team Salvato, and its polished graphics by freelance artist Satchely are almost indistinguishable from actual Japanese visual novels. While the genre tends to be overlooked in the West, Doki Doki Literature Club bucked the trend, praised by everyone from gaming sites like Kotaku and IGN, to mainstream publications like GC, for the shocking depths of its psychological horror.
Unfortunately, that positive attention has turned to negative attention, as parents, teachers, and police in the Manchester, UK are have begun citing Doki Doki Literature Club as a possible influence in the February suicide of 15-year-old Ben Walmsley. His father, Darren, says that Ben was sketching characters from the game, and that after entering his phone number, the game would wake him up with text messages at odd hours of the night.
Ben Walmsley
'It is free to download but once you get into it, it will not leave you alone. The characters befriend and love you and give you tasks to do but if you do not do them, they turn nasty.'
His concerns were shared by the Manchester Coroner's office and the Greater Manchester Police's Public Protection Division, as messages were sent to schools and police across the country:
"GMP have been made aware of an online game called 'Doki Doki' or Doki Doki Literature Club which is a psychological game. We believe this game is a risk to children and young people especially those that are emotionally vulnerable and anyone with existing mental health concerns."
Being in the horror genre, the game does explore some dark themes, with multiple characters in the game committing suicide. However, fans have been quick to point out that the game explicitly warns multiple times on the Steam store page before you buy it:
"This game is not suitable for children or those who are easily disturbed"
"Individuals suffering from anxiety or depression may not have a safe experience playing this game"
"By playing Doki Doki Literature Club, you agree that you are at least 13 years of age, and you consent to your exposure of highly disturbing content."
Thus it seems difficult to truthfully claim that Team Salvato have been irresponsible in representing the game's content. Certainly authorities are right to warn parents to be aware of the media kids are getting into online, but it seems like Darren Walmsley heaves an undue amount of blame towards Doki Doki Literature Club and Team Salvato:
"Children are curious but they can get sucked in. The characters are clearly designed to drag young lads in. It is a game that needs taking offline and destroying… Ben was intelligent and funny with a great sense of humour. He was a gent, loving and caring. We just want to find out why and at the moment, it's all pointing to this game."
It's understandable that Mr. Walmsley would make emotionally-charged statements after his loss, but he seems to imply that his son could not have had any pre-existing issues with depression or self-harm, and that Doki Doki Literature Club was the sole factor in Ben's actions. It seems more likely that Team Salvato are simply fans of horror-themed visual novels and wanted to make their own, compared to the idea that they expressly try to "drag in" and attack young people. The Manchest Police seem to imply that Ben may have had "existing health concerns" in their own statement, which seems a more plausible cause than entirely blaming the game.
Doki Doki Literature Club's page on the Steam Store, red circle added by Otaku USA for emphasis.
The situation is not dissimilar to the controversy which has stirred over Netflix's live-action drama 13 Reasons Why since it debuted last year. The show's creators have taken an increasing number of steps to warn viewers about its potentially-disturbing, suicide-laden content and provide links to suicide prevention info, but critics (including actual psychologists) continue to argue there's a very real risk that the show could inspire teens towards suicide.
Both situations beg the question whether digital media providers or parents should take more responsibility over the content children are exposed to. Netflix has continued to argue that it doesn't force viewers to watch anything, and Steam renewed its hands-off approach to moderating its content earlier this month. Overall it seems that digital content services will continue to exist as a bit of a "lawless zone" where viewers need to watch out for themselves with regards to what's safe or appropriate to watch.
Source: SoraNews24, Daily Mail