Assault Lily Mixed Media Project Adds Chibi-Style Mini Anime
Bushiroad's Assault Lily mixed media project continues, following up on the recent TV anime series Assault Lily Bouquet. That one aired from October to December of last year, and next up is a chibi-style mini anime that once again comes from Puella Magi Madoka Magica studio Shaft.
The announcement came during a live stream presentation that had the four lead voice actresses from the project—including Yuko Natsuyoshi (Yuyu Shirai), Hikaru Akao (Riri Hitotsuyanagi), Ayaka Fujii (Kazuha Aizawa), and Kaori Maeda (Kanaho Kon)—on hand.
Beyond the mini anime, the Assault Lily project has a new stage play featuring the nine members of Team Hitotsuyanagi on the way. Performances will be held at Ikebukuro Sunshine Theater in Tokyo from January 17 to 30, 2022, and Blu-rays of the 2020 stage plays will be released this May.
There's also a new large-scale exhibition—complete with materials from the game, anime, stage plays, and more—planned for March 25 to April 6 of this year.
Speaking of games, a new Assault Lily Bouquet game titled Assault Lily Last Bullet is coming to iOS, Android, and PC on January 20.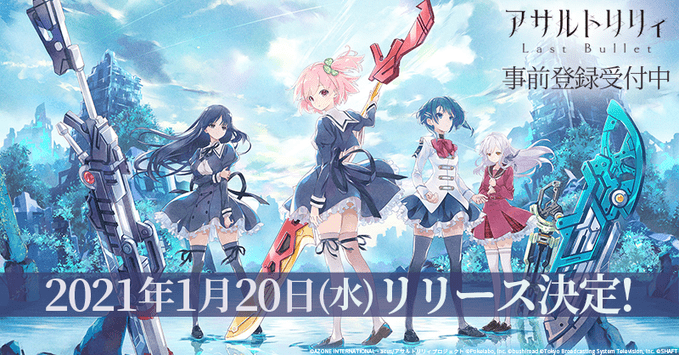 Via Crunchyroll