Anime First Impressions: TERRAFORMARS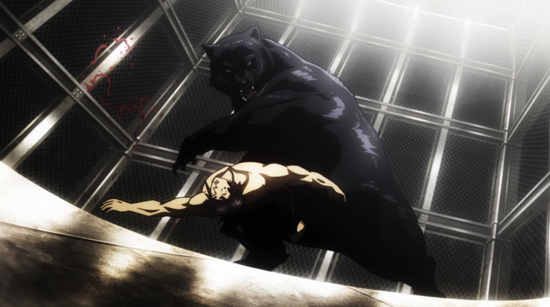 Like any self-respecting anime, TERRAFORMARS starts by putting its protagonist in a cage match against a massive, blood-thirsty bear. It's doubtful the organizers of the spectacle could have foreseen what happens next, as Akari Hizamaru goes through some sort of mutation, making an instant too-hot-for-TV mess of the bear. All Akari wants is a promised operation on his childhood friend Yuriko, but life is cruel, and it's about to get even more so as Akari is enlisted to use his strength and raw rage to join an expedition to Mars in an effort to end the disease that took his friend's life.
The mission seems simple enough, even tame at first. Akari and the rest of those who survive surgeries designed to prepare them for Mars are tasked with cultivating virus samples straight from the source. They'll need to investigate Mars' air, sand, water, and moss; study their existence and variations; and possibly bring samples back. So what's up with all the strength-enhancement necessary for the trip? Well, the catch comes in the form of towering, muscled cockroaches that evolved to adapt in Mars' harsh environment over the course of 500 years. They've already disposed of countless crews, and if Akari and his team aren't ready, they're next.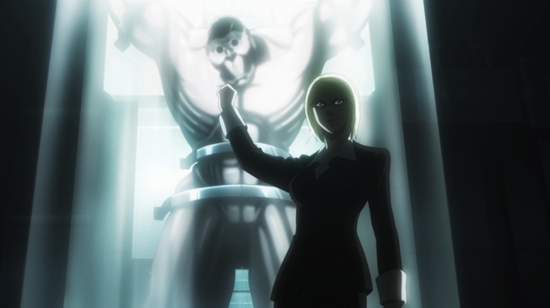 That's the general setup of the TERRAFORMARS TV anime, which covers the Annex 1 arc of the manga written by Yū Sasuga and illustrated by Kenichi Tachibana. Hiroshi Hamasaki—who also helms the Bugs 2 arc OVA, and previously directed Texhnolyze, Iron Man: Rise of Technovore, and the fantastic Shigurui: Death Frenzy, among other projects—directs the 13-episode series, with Shogo Yasukawa (Hyperdimension Neptunia, Invaders of the Rokujyōma) on series composition for the Liden Films production.
Episode 2 has the crew acclimating to space travel as they gradually approach Mars. They get to know one another, have some fun, and build a bit of tension to what will inevitably be a gruesome showdown with some brutal, questionably-designed Space Roaches. The last third or so of the episode gets really violent, which means there's a ton of black bar censorship all over it. This is something that will likely be cleared up for the Japanese home video release, but it just dampens the most exciting part of the episode.
TERRAFORMARS is all kinds of average at the moment, but hopefully things will pick up in future episodes. While I haven't read the manga yet, the show has me thinking the source material might be the way to go, because I don't see the anime doing anything interesting yet. I'll still follow it, though, especially now that the crew is about to land on Mars, right after they clear up what could be an extremely ugly incident aboard their ship, that is.
TERRAFORMARS is currently streaming via Crunchyroll