5 Cozy Anime For Galentine's Day
Tis' the season for love and all things adorable. This time around we're sharing the best anime to watch for Galentine's Day. 
What's that you ask? Galentine's Day, while not a national holiday, is a holiday coined by fictional character Leslie Knope from Parks and Recreation. In the show, Leslie gathers all her best gal pals on February 13th and throws a brunch party with stacks of waffles and "ladies celebrating ladies." Sign us up. 
Of course, Galentine's Day can be for anyone. Whether you treat it as a day of self-care or surround yourself with your best friends, anime can be the perfect addition to your festivities. Specifically cozy, iyashikei (healing) shows that have the power to help you relax. Iyashikei anime focuses on characters taking things slow or pursuing a passion, such as camping or hanging out with friends. 
So sit back and cozy up while watching these five anime for Galentine's Day.
Laid-back Camp
This one was an easy first recommendation. If exploring nature is your idea of relaxing, then Laid-back Camp has just what you need. This super cozy show takes you with Rin Shima and her newfound friends to various camping spots at the base of Mount Fuji. 
Each episode emphasizes taking time for yourself and indulging in your favorite activities. Rin loves traveling to new sites, starting a fire, cooking a warm meal, and adding friends to the mix makes it more fun. 
To fully immerse in the watching experience, make some snacks and cozy up with blankets. We couldn't ask for a better show to watch on Galentine's Day.
Let's Make a Mug Too!
Living up to the "cute girls doing cute things" genre, Let's Make a Mug Too! is a delightfully sweet anime about four high school girls making ceramics at their school's pottery club. And it's as adorable as it sounds. Even if things go awry, the other club members help out to spark motivation. 
Each episode is 14 minutes of pure bliss followed by mini-episodes of the character's voice actors recreating some of the pottery made in the show or visiting places in Gifu to learn more about the handicraft. 
We wouldn't blame you if you now have the sudden urge to try making your own ceramics.
Aria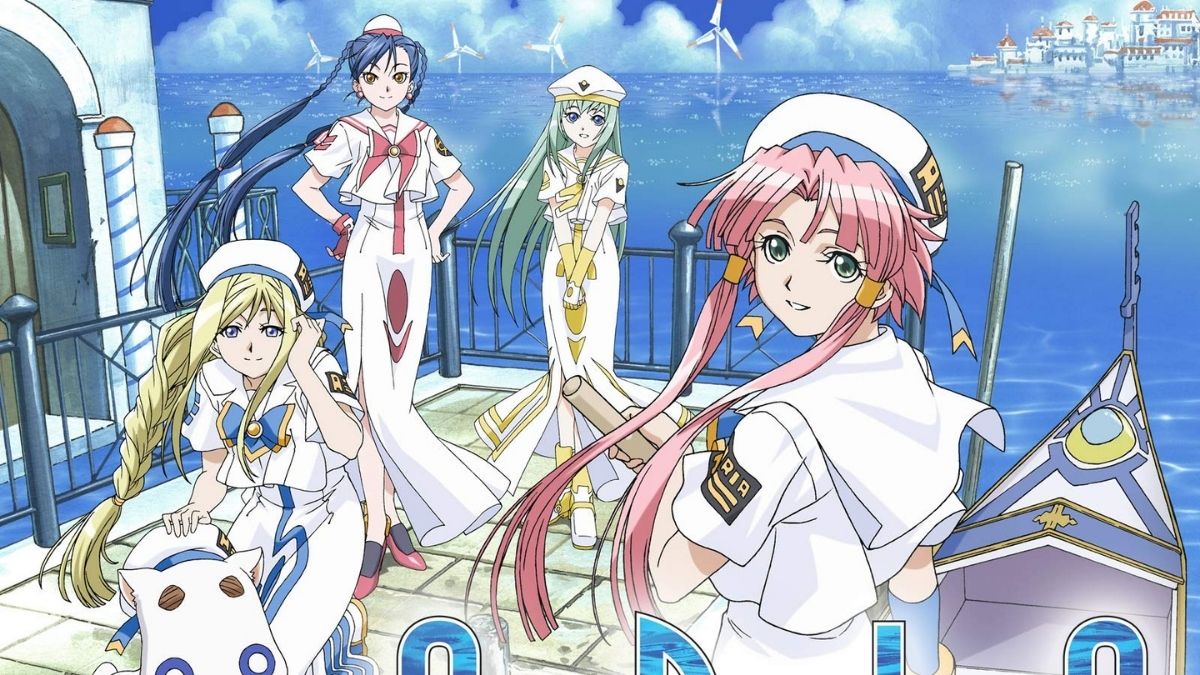 Aria The Animation, was bringing us soul-soothing episodes, in what feels like forever ago, way back in 2005. If you need a touch of escapism, Aria is the clear choice. Set in Neo-Venezia, a replica of Venice, Akari dreams of being an "undine", a female gondolier. She trains alongside the other Aria undines, in the hopes to one day become a trusted tour guide of Neo-Venezia.
It's a gorgeous show thanks to literally being set on a planet full of water, and overall is a chill watch. Making it perfect to throw on while you enjoy your company for Galentine's Day.    
Non Non Biyori
The epitome of slow-down culture, Non Non Biyori transports you to a small and slow town of Asahigaoka. There are only four students in one classroom when the new transfer student, Hotaru, moves from Tokyo to this sleepy town. 
What seems like a boring, nothing-to-do type of place, the girls find ways to make their days fun and full of happy memories, even if there is only one lone candy shop in all of town. Non Non Biyori is the epitome of taking things slow. 
If you love easy-to-watch shows about friends making the best of their situation, then give this one a try! Your friends will be thanking you.
Flying Witch
Want to add a fantasy flair to your night in? Flying Witch packs everything we love about iyashikei titles into a slice-of-life filled with magic. Makoto, a 15-year-old witch, takes on living among humans and training to be a full-fledged witch. 
From going to school, attending the cherry blossom festival, and stopping at cafes, the show isn't in a rush. And that's the whole point. No grandiose battles, just some witches making the most of their days.
However you spend your Galentine's Day, we hope it's a relaxing one!
Looking for more anime perfect to cozy up with this winter? Check out these titles.