Pokemon Sun and Moon [Manga Review]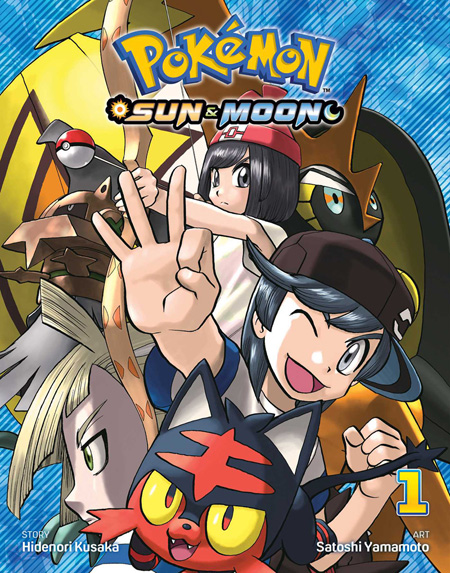 Whether you're a new Pokemon Master in the making or a wizened expert, there's plenty to love about the latest round of the Pokemon Adventures manga, adapting the Sun and Moon games with a brand-new roster of characters and Pokemon-themed hijinks.
Pokemon Sun and Moon follows delivery boy Sun and pharmacist Moon on their adventures, beginning with Moon's arrival in the Alola region on a delivery mission. Sun is introduced getting tangled up with some Team Skull grunts while working a part-time job on the beach. As the two travelers team up, we learn that the clumsy, reckless Sun is working toward repaying a $4 million debt, while Moon has strengths beyond her medical training, including skill with a bow and arrow. When the two happen upon one of the Pokemon that comprise Alola's guardian deities, things get a little hairy.
This round of Pokemon Adventures introduces plenty of new Pokemon, characters, and scenery, as well as a tenacious enemy in Team Skull, which is a lot more vicious than in the Sun and Moon games. Once they set out to meet a goal, they see it through to the end, which makes them formidable villains and a force to be reckoned with compared to most of Team Rocket's paltry escapades in the past. Moon is different from the typical Pokemon heroine as well, with a good amount of sass that makes her an ideal foil for Sun's goofiness. The franchise hasn't had a female lead this strong since Misty in the original series, and that's been quite some time now. Both of the main characters have personality and backstory well beyond what players create in the games.
If you've followed the long-running Pokemon Adventures manga, which has covered most of the games going all the way back to the original Red and Blue titles, you'll find plenty to love about this new adventure, which is appropriate for Pokemon fans of all ages. It's no substitute for going off on your own custom Pokemon adventure in the Nintendo 3DS games, but it's still worth embarking on this quest with some pros to get a feel for the territory. Recommended.
publisher: Viz Media
story: Hidenori Kusaka
Art: Satoshi Yamamoto
rating: All Ages
This story appears in the August 2018 issue of Otaku USA Magazine. Click here to get a print copy.