Embrace the Seven Heavenly Virtues Anime on Home Video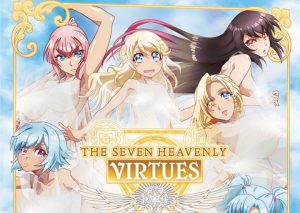 Featured Spotlight:



When the time comes to seek out a new Messiah, let's hope Heaven can find a group that's a little more qualified than the angels in The Seven Heavenly Virtues anime. As much of a mess as they may be, these ladies provide endless entertainment, and you can take them home with you on Blu-ray today in Sentai Filmworks' The Seven Heavenly Virtues Complete Collection.
Heaven is on the hunt for a new savior now that the fallen angel Lucifer is raising hell down below, but the search for this Messiah isn't going as smoothly as the higher-ups would like. This is pretty much 100 percent thanks to the angels who are in charge of said search, from the self-doubting leader Michael to the scantily-clad Gabriel, who's supposed to be the Angel of Chastity (in that outfit?!).
Uriel's bladder control issues and Metatron's bondage fetish will be the least of their worries if they can't do their jobs as guardian Angels, though. If this group is on humanity's side, there may be no hope for us after all.
Adapting Hobby Japan's media franchise of the same name, The Seven Heavenly Virtues features Shinji Ishihara as director, with Masanori Iizuka adapting the original character designs by Niθ. Humanity may be doomed, but the hopeless hunt for a savior has never been this fun. Embrace the madness for yourself and purchase your copy of The Seven Heavenly Virtues Complete Collection on Blu-ray today.
** This article was sponsored by Sentai Filmworks
**